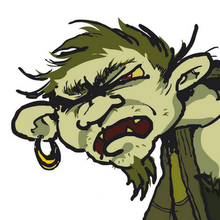 We're excited to introduce BJJ Weekly contributor Ola Lanteli, the artist behind the Troll Creek Jiu-Jitszu blog. Ola is a purple belt training in Trollbacken (Troll Creek), a suburb of Stockholm Sweden. The Troll Creek characters started as a fun project with Ola's son and have grown since then.
Since we are featuring Marcelo Garcia this week in the newsletter, the butterfly hooks seemed like a perfect compliment. This cartoon is the first in a series, enjoy!
Troll Creek Jiu-Jitszu Training Blog.
The first training session of the fall season. Our Sensei has been studying Butterfly Guard during the summer and wanted to let us in on the secrets before it was to late in the year [and the butterflies disappear].
So we practised some variations of the Butterfly Guard and found out that you can have good use of hooks and set up several sweeps.