Robson Moura – Jiu Jitsu Requirements Series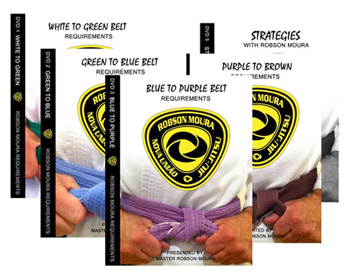 Robson Moura has just released his comprehensive belt requirements instructional DVDs. The full series includes 5 DVDs, Green, Blue, Purple, Brown, and Strategy. Even if you are not with a Robson Moura Nova Uniao school, you should definitely check out these videos. Robson is a 7x World Champion known for his amazing flow and attacking style.
Robson and his team have also made the pricing on these videos affordable for everyone. You can buy single disks for $29. In a world where "Inside Out Hurricane Hammer Quarter Guard Tournament Style Nogi Submissions" videos can go for over $50, that's a great deal. You'll find some great in depth reviews written by BJJ Weekly readers below.
My personal review is pretty simple. The camera work, sound, and editing are all acceptable while the content is a gold mine of jiu-jitsu greatness. If you think adding a little of Robson's flow to your game would improve it, get up off your wallet and add these disks to your collection. It's a no brainer.
- Bill Thomas
Robson Moura – Green Belt Jiu-Jitsu Requirements
About the reviewer: Dan Buckley has been training for 2 years, the first strictly gi and the second nogi. He also owns Robson Moura's Super Nogi and the Fusion I and Fusion II series of DVDs.
White to Green Belt Requirements is the first of five in Robson Moura's requirement series and Robson appropriately refers to the green belt as the survival belt. Robson Moura (Robson Moura Nova União) adds the green belt, which is commonly used for BJJ practitioners under the age of 16, to his belt ranking system. Robson explains in this DVD that his first instructor incorporated the green belt into the belt system to acknowledge a white belt with a higher degree of knowledge and he too has since used this belt system.
This DVD starts off with Robson explaining his belt system, a brief history of Brazilian Jiu Jitsu, and he mentions the importance of tapping for a beginner in the sport. The lighting and sound are both clear and Robson gave all the instructions and demonstrations throughout the DVD. Robson wore a traditional white gi and the background is a red mat with black wall mat so there is no confusion with the color contrast. The DVD is straight forward going from one move to the next without any fancy audio or sound bit thrown in to the mix. Like I mentioned previously, I own Robson's other DVDs as well as dozens of other instructional DVDs and I have never had a problem understanding the instructor. Although, at times, I found myself going back over some of the things Robson said as he spoke too quickly, making it difficult to understand. The navigation did not appear to be of high quality. There is only the one camera angle and even though Robson basically stays in or around the same place on the mat throughout the DVD, the camera moves back and forth slightly at times. This was mildly distracting.
After the history of BJJ, Robson demonstrated basic drills such as, back rolls, front rolls, bridging, shrimping, and about a dozen self-defense moves that he requires for the green belt. There are not too many BJJ DVDs in circulation that show self-defense techniques; it was refreshing to see Robson demonstrate these techniques.
Robson uses a partner to demonstrate submissions from the closed guard, side control, and the mount; he also demonstrated escapes from these positions. The moves that are shown are demonstrated approximately three times each, but only from one angle. Minimal detail or explanation was shown as well. There is no zooming in of the positions or alternate angles to view the move or the finer details. I will note an issue I had with the editing. Robson goes from closed guard submissions to guard passing then back to more submission from the closed guard. This also happens when he demonstrates side control escapes, moves on to mount escapes, side control submissions, and back to a side control escape. This is not knocking Robson or his instruction more the editing of the DVD. Maybe it is the obsessive compulsiveness in me but I like to have everything in order not going back and forth between the moves.
To conclude, I believe this DVD is primarily designed for students of RMNU, perspective students who wish to sign up with RMNU, or those who wish to be belted by Robson or one of his black belts. After all, this is a requirements DVD and they are not advertising it as a ground breaking instructional DVD. The moves which are required for the green belt are suited to a BJJ practitioner having up to 9 months of experience, depending upon how often they train. I believe quality in production was lowered to save on the consumer cost of this DVD. I personally do not care for a fancy DVD cover and catchy tune between moves if I can purchase the DVD for cheaper, so this was a good trade off. Therefore, I would recommend this DVD to anyone who is starting out on their journey in BJJ especially those in or associated with RMNU.
Robson Moura – Blue Belt Jiu-Jitsu Requirements
About the reviewer: Tyy Withrow is a 4 stripe blue belt. You can read more of his writing, including training product and DVD reviews at his blog, http://bjjpaperweight.blogspot.com.
First impressions about the DVD were good. It had a nice case, an insert giving some info about Robson Moura and the philosophy he wants to instill while people are using the video. On the insert there are some links to provide even more information. I thought this was a nice touch to add on.
When I put in the DVD it had an option giving some basic information about the belt requirements and also Nova Uniao. Nova Uniao is the association that Robson helps run. I really liked this, but his English is a little hard to understand during the segments. After that there are a total of 7 pages with various techniques on them. The techniques don't have any particular order in which they were put together. There are a total of 24 different techniques. These range from full guard sweeps to full mount escapes. He demonstrated each move three times each, usually from the same angle. During the demonstration he provided some details to make sure you perform the move properly and effectively.
The quality of the video was very good, very clear. On a couple techniques I wish the camera man had not zoomed in so much or had a different angle. It didn't take away from the move itself though. The sound was good as well, I was able to hear and understand him at all times. As stated earlier the DVD has 7 pages, on each page is about 4 options. This makes it really easy to move around and look for a technique. Since there is no order for the techniques you'll need to scroll through the pages to find the one you're looking for.
Overall this DVD delivers on what it was made to do, supplementing your game through Green to Blue journey. Most schools don't have a green belt for adults though. For everyone that doesn't know what the green belt represents, I'll explain. The green is to show that the person has been training long enough to be experienced, but not long enough for a blue belt. An example is that it shows the difference between the guy who has trained for 8 months and the guy who started a week ago. The $29.99 price point is just right as well. With that in mind the DVD is a good deal for those who want to improve their game into a blue belt level.
Robson Moura – Purple Belt Jiu-Jitsu Requirements
About the reviewer: Edrik Lopez is a purple-belt under Master Luigi Mondelli of American Top Team Connecticut. He currently trains at The Center Martial Arts in Fairfield, Connecticut, and at BDx Martial Arts in Shelton. He also trained under Master Mike Casey at the Relson Gracie Jiu-Jitsu Academy in the Bronx, New York. He is a professor of literature and cultural studies at Fairfield University.
Information to his schools can be found at the following links: www.americantopteamct.com; www.thecentermartialarts.com; and www.bdxmartialarts.com.
If you've been practicing Brazilian jiu-jitsu for 5 and ½ years of continuous training, as I have, what keeps you going through injury, skill plateaus, and – let's be honest – the high monthly cost, are those moments of pure joy in this martial art where you see a new way of doing something – a new set-up or transition or even submission – and you immediately want to try it out. If you're not at your school, you wish you were. Heck, if you're in a private office, as I was when reviewing the video, you may even close the door, move the chair and desk, and try it out by yourself in a session of shadow-jiu-jitsu. Well, there were two moves that I had to immediately try-out in my office while watching Robson Moura's "Blue to Purple Belt" instructional DVD.
The first "wow move" was a spider-guard sweep where Master Robson showed a different angle of the "off' knee placement to use as the fulcrum. (I used my chair as the training dummy.) The second was a sweet escape from side-control where your interior leg circles above your own head and around to catch your opponent in your guard. (Again, my chair.) I sat on the floor and did the jiu-jitsu daydream all of us go through and imagined the move later in training against that former wrestler all of our gyms seem to have. Then, a colleague of mine (of course) knocked and opened the door for a quick question about an email we all received.
When you are willing to risk office embarrassment and fumble through an awkward explanation that, no, you're not break-dancing, you know you have a good instructional DVD in your hands.
Granted, in an era where we have access to YouTube, online video streaming, and even a weekly technique from BJJ Weekly, the question that an instructional DVD is put through is, frankly, why should I pay for something that I could find for free? In the case of Master Robson's purple-belt DVD, the answer is quite simple.
You don't have to build the puzzle.
Let's face it, outside of your own school's instruction; most of the videos we see online are a series of moves that, in the end, are just a peak at the larger game. Hidden from us is the entire structure of Master X's game. And if you're truthful, you've probably tried the move and realized it doesn't quite play itself out because something is missing. Well, nothing is missing in this DVD. No pieces of the puzzle are absent.
Master Robson presents to you a series of twenty-five moves to master for the purple-belt rank that comprise what he believes is the essence of the purple-belt: as he put it, "mastery of the top game." As a purple-belt, Master Robson believes you should be difficult to remove from a dominant position; in fact, you should be attacking and finishing. With Master Robson's instructions, you will get there.
Aside from the two moves I immediately tried in my office, some of the finer techniques are those that reveal new materials and angles of attack. For example, using the opponent's lapel from top half-guard to submit with the brabo choke; or, even using the same lapel, this time from bottom half-guard, to take the opponent's back.
Mind you, the quality of the DVD is lacking. It is not shot in high-definition, the lighting could use some help, and the voices sometimes have an echo-effect, sounding as if it was shot in a much larger gym. The DVD could also benefit from better editing. (There is one weird moment where Robson's assistant, interrupts Robson about a technique. They have a conversation we can't hear and then the cameraman's hand comes across the screen to block our view. Then, without, pause, the instruction simply continues. Perhaps this sequence should have been reshot.) In addition, the DVD could benefit from textual subheadings within the video – graphics that inform you where you are within the instruction. As it is, the DVD moves from one technique to another with only a fade out to signify a new technique.
Overall, if you are a jiu-jitsu enthusiast who is on his or her way to the purple-belt, having committed at least two years and willing to wait at least two more for the new rank, it means you've scoured the internet for gems of competition videos shot from a smartphone. It means you have rewound that highly pixelated video and seen how so and so achieved that great sweep. Having committed to this art for this long means that you care more about learning a new technique – the substance – than the flash of how it was carried to you. If that is the case, this DVD is a very good investment for your training.
In fact, we should all have a reserve of instructional techniques from world champions. The case is even more compelling when the instruction is from a seven-time world champion. Other than this DVD, you can always travel to Tampa and train at Master Robson's school. I suspect the cost is considerably more expensive. As an investment, the purple-belt DVD is a great purchase.
Robson Moura – Brown Belt Jiu-Jitsu Requirements
About the reviewer: Joseph George is a lifelong aficionado of the martial arts, and a one-year brown belt studying at the University of Jiu-Jitsu in San Diego. The University is open to all jiu-jitsu fighters to visit in order to study, train, and learn the jiu-jitsu lifestyle. For more information, visit us at http://www.unijj.com/
This instructional DVD is the fourth disc in Robson's most recent series. It is a standalone product, no knowledge of the other discs in the series is necessary in order to reap the rewards present within. These rewards are numerous, and despite the imposing title, can be enjoyed by students of all levels blue belt and higher.
The disc begins with a brief introduction outlaying Robson's vision for the tactics about to be seen. He makes it clear that in order for the student to advance to a high level in jiu-jitsu, they have to understand how to become truly proficient in many different positions, and not rely on one strong area too much.
There are lists of all the techniques elsewhere, but here is a sample of some of the moves taught on this disc:
Cross-Guard to Armbar
Kneebar Escape to Side Control
Reverse Omoplata vs Turtle Guard
Shin Guard Sweep to Side Control
Side Control to Double Armbar
The instruction takes place with the kimono; however, several of the techniques presented can be used no-gi without any adaptation. Overall, the moves are advanced, but are presented in such a clear way, that it's not really possible to become confused. The arsenal presented by Robson is heavy on attacks: passing open guard, advancing position, leg locks, and Robson's specialty: sweeps.
The sweeps, and other tactics, are delivered in video of good quality, with clear, audible instruction given by Moura himself. No translator is needed, since Robson is fluent and easy to understand. He anticipates potential stumbling blocks, like grips and foot placement, by emphasizing them wherever they might be overlooked.
Defense is not absent. Several key escapes are given, solid defenses to the realistic attacks the advanced student can expect from skilled training partners: the kneebar, straight ankle lock, and omoplata. The hallmark of the advanced student is the combination, so every escape on the disc is paired with a reversal. For example, two of the escapes result in not just avoiding being tapped, but achieving immediate side control. This makes each defensive move, really two moves in one. The chapters on omoplata defense are worth the price of entry, alone.
This disc does not contain long lectures, stories, or "secrets" to how you can tap anyone in ten seconds. It simply contains an array of weapons that absolutely must be learned and mastered before the student can expect to prevail against a highly skilled opponent. Within this disc are counters-to-counters, beautiful, ingenious sweeps, and solid, clear solutions to serious problems on the mat- like a purple belt locking in an omoplata on you, or trying to take your leg home for dinner. Advanced students will be right at home, beginners will enjoy a preview of higher-level attacks they can use later, and a few escapes they can start using right away.
Robson's years of experience shine through in his decisive movements and clarity of teaching. This is what differentiates a good instructional from a YouTube video in a dusty MMA gym. He knows what he is talking about, and every move on the disc is useful and effective. This video qualifies as a "must-have" DVD.
Robson Moura- BJJ Strategies
About the reviewer: Sean Conley is a four stripe Brown Belt under Master Nelson Monteiro (Fifth Degree Gracie Barra Black Belt under Master Carlos Gracie Jr and co-founder of the Abu Dhabi Combat Club) and Professor Rafael "Foca" Ramos (Second Degree Black Belt under Master Carlos Gracie Jr) at Gracie Barra Encinitas (North County, San Diego.) Please visit us anytime at http://www.jiujitsugraciebarra.com/index.htm or email us at jiujitsu@graciebarrasandiego.com
Leonardo da Vinci once stated that "simplicity is the ultimate sophistication." As there is no shortage of instructional BJJ DVDs in the marketplace, many of which focus upon mastering specific techniques such as half guard, spider guard and triangle chokes, there has been a relative dearth of instructional content which focuses upon the strategic element of Brazilian Jiu-Jitsu. I venture to submit that all of us have struggled with elements of feeling as if we are stuck in a rut with our training sessions. Furthermore, many of us have also dealt with a class bully and feeling as if we must defend our rank by new students who may look at us as if we are "targets to tap at all costs." Master Robson Moura of Nova Uniao and interviewer John Graybeal offer simple solutions to sophisticated questions regarding Brazilian Jiu Jitsu strategy. Hence, I would recommend Strategies with Robson Moura as a staple to anyone's respective DVD collection with one caveat.
The video is divided into nine sections with two outtakes: Introductory Professor Moura Interview; Working with new students; Conducting Belt Reviews; Getting past plateaus; dealing with class bullies; determining skill levels of new or visiting students; new purple belts and sparring sessions; strategies for starting from the knees and an interactive strategy and technique section. While I originally thought the DVD would get into more of a positional strategy review, the breadth of questions answered in the forum focused upon the personal element of training and is therefore applicable for all ranks and future instructors who may be looking at opening a school or starting a BJJ club.
The content regarding how to introduce a new student and indoctrinating a potential bully into a productive and safe student within the class structure are excellent. The interviewer, John Graybeal, poses solid questions that are relevant in regards to how rank dictates protocol and how we can use Jiu-Jitsu to welcome new students, minimize attrition and improve lives.
Professor Moura comes across as likeable and friendly. The positional strategies are an excellent topic of conversation, specifically how it relates to approaching a stronger or faster opponent while engaging in the interval training part of class. The production quality of the video is above average, as is the sound and direction. As I have watched quite a few instructional BJJ videos, one question I have asked myself is whether or not I would enjoy training with that respective instructor. While Professor Moura's accomplishments in competition are well-known, he comes across as an even better person and excellent instructor, which is a rate attribute. Hence, I hope to have the opportunity to meet and train with Professor Moura someday as a visiting student.
While John asked pertinent questions regarding managing a class and indoctrinating new students into a class structure, I would have liked to gained additional context regarding Professor Moura's specific experiences in regards to his journey. For example, the segment in regards to getting past plateaus is an extremely important topic on the road to attaining a black belt and progressing as a student. While the advice given was sound, I felt as if there could have been more anecdotal information regarding Robson's journey and overcoming the "doldrums of training." Many of us have felt the disheartening notion that we are not improving as we progress through the ranks. As the gains in improving one's game is incremental and may feel glacially slow as we improve through the ranks, I would have enjoyed learning about strategies to overcome these feelings as we progress through the ranks and how we can manage our own expectations and focus within training goals that are clearly defined.
One "picky" aspect of the presentation that I found highly distracting pertained to John's Gi, which was a bit worse for the wear and should have been scrapped. This is a shame, considering the quality of his questions and subject, Professor Moura. As Jiu Jitsu is a matter of paying attention to subtle details, this is an easy fix for future DVDs. I recommend that Origin or Gameness send John a new Gi for future interviews with Master Robson Moura.
Fashion critique aside, I would definitely recommend this video to those who are looking to improve upon the strategic aspect of Brazilian Jiu Jitsu and may be looking to open a school someday. The content is highly relevant to those who have attained the rank of blue and purple belt, which I believe is the intended audience for this video. I look forward to seeing more content regarding the strategic element of Brazilian Jiu Jitsu from Master Robson Moura and John Graybeal.