Kauai Kimonos – Royal Blue Ripstop Gi Review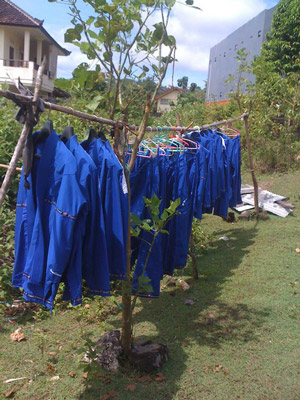 Kauai Kimonos Drying in the Bali SunFanboy Alert! This isn't a very objective review; my Kauai Kimonos are some of my favorite possessions. Kauai is a very unique product and company. Most gis today are manufactured in Pakistan, and many of them are made by a small handful of factories that work for a lot of different companies. Multiple companies might even use the same fabric and patterns, simply changing design features.
Kauai Kimonos aren't made in Pakistan, and they aren't made in a factory. The gis are sewn in a tiny workshop in Bali, Indonesia by a small group of highly skilled seamstresses. This makes a huge difference in the way the gi is cut and sewn. Kauai Kimonos feel more like a finely tailored men's suit than a martial arts uniform. It's difficult to capture in a picture, but obvious when you have one in your hands. These gis are made by craftspeople who actually care about the product, and that's a rare thing in today's world.
But it's not just the quality of the gi the makes it one of my favorites, or even the story behind the company. We travel fairly often for BJJ Weekly and we have a lot of gear to lug around. For the past year I've been traveling with a Kauai Kimono. The 100% ripstop jacket makes this the ultimate gi to throw in your luggage without taking up a lot of space. And the entire gi can be washed in a hotel sink and it will hang dry overnight.
Kauai uses a unique cotton ripstop fabric that is extremely strong, lightweight, and very, very soft. While it's a ripstop fabric, it's not the same fabric used by most manufacturers. I've had some bad luck with other gis that used ripstop, specifically pants that feel very waxy and rough. The Kauai fabric is not waxy at all and feels great.
All the fabric is washed before cutting, and then again after sewing, resulting in a preshrunk gi. You will want to wash in cold water and hang dry. Another benefit of the fabric is the fact that it's soft even after an air dry.
The gi has a very classy, understated look with a few small design touches that make it really stand out. From the 'Choke Em Out' tags to the Hawaiian Island embroidery along the leg this is a very sharp gi.
The gi jacket fits me great, but the pants are a little snug in the hips and the legs are just a bit too long. That's to be expected, since my normal size is A3 battle dwarf and this gi favors a more traditional jiu-jitsu fighter build.
The construction is simply amazing, every seam is double stitched and the reinforcement areas are all triple stitched. The finish on the seams is also the best I've ever seen on any gi. The embroidery is all clean and there are no loose threads anywhere. I've been beating on one of these for a year and it shows no sign of any rips or tears, and very little wear. It's obvious these gis are made with a lot of love and care.
You can pick up a Kauai for about $155. My best advice is to get one while they are in stock if you think you want one. Everything that makes Kauai unique makes them vulnerable to being out of stock on occasion, and it might be a while before your size or color is available is you miss out.
Bill Thomas