The Gameness Never Quit Moment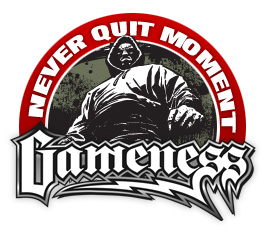 We've all felt like quitting before. Quitting a workout early, quitting a diet, quitting a rolling session, and sometimes even quitting on Brazilian Jiu Jitsu altogether.
Sometimes we give in, and sometimes we dig deep and fight back – we stick it out. More times than not, that's what makes a champion, they stick it out more often than anyone else. They keep going when they really want to stop. They never quit.
There is always a moment of decision, a point where you have to decide to quit, or to keep going. That moment is a defining factor in our lives. Most people quit, but you didn't.
Maybe it was an injury, or a family situation, or an opponent who had your number. Whatever it was, the odds were against you and even your friends were telling you to throw in the towel. But you gritted your teeth, picked yourself up, and got back on the mat for another round. That was your Never Quit Moment.
Gameness respects that kind of mental toughness, and they are looking for a Jiu Jitsu fighter who has it to represent their brand. To qualify, you don't need a bunch of competition wins, or need to be a nationally known Jiu Jitsu celebrity. In fact, this contest is only open to purple belts and below. Gameness is a company about the everyday competitor, and that's what they are looking for.
If you want to be considered for this sponsorship, tell us about your Never Quit Moment!
If your story is selected for publication in the newsletter you'll receive a brand new Gameness gi and some other great gear from BJJ Weekly. From the published stories, readers and Gameness will select a single winner of the Gameness sponsorship. That winner will receive a Gameness practice gi, a competition gi, a bunch of great gear, be featured in a Gameness advertisement, and have their tournament entry fees paid for a year.1
To enter, just send your story to neverquit@bjjweekly.com – good luck!
1.Up to $350