Ever want to design your own T-shirt? Think you have what it takes to be a BJJ fashion icon? We're looking for you! Fame, glory and fortune are just a sketch away in the BJJ Weekly t-shirt design contest! We are looking for a new shirt design that promotes BJJ Weekly and has international appeal.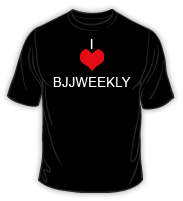 Send your best designs (up to 5) to contest@bjjweekly.com before 2/1/2011. We'll post all the entries on our Facebook page and let readers vote for their favorites. The winning design will get $100 in cash plus up to 10 free shirts to share with their favorite training partners. And anyone who submits a design that gets more than 25 votes will also get a free shirt.
Remember, we need something that will appeal to an international audience, and promotes BJJ Weekly. You never know, but an Affliction style knock off with lots of skulls and blood probably isn't going to be popular with our readers so think outside the box!
Good luck!