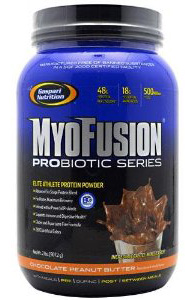 This week, we are reviewing Gaspari Nutrition's "MyoFusion Probiotic Series" protein powder. I have to say, I have had a blast testing Gaspari's products. Having used a few different protein powders over about two years, I have some sort of vague reference to compare this product to. Admittedly I have only used the low quality one or two brands that can be found in the vitamin isle at your unnamed one stop shopping center.
Immediately you'll notice that Myofusion has a unique offering in that it contains probiotics to support digestive health. If you are not familiar with probiotics, they are live bacteria culture's that upon consumption, set up shop in your digestive tract and aid with digestive health. Probiotics can be acquired by eating various foods such as yogurt, cheese, sauerkraut, and even wine and beer. There are also many supplemental sources of probiotics that can be found at your local pharmacy.
Another unique aspect to Myofusion is what they refer to as their "six stage protein blend." Nowhere on the label is this product referred to as a whey protein concentrate, or whey protein isolate. Gaspari simply states that this is a protein powder, and with closer investigation on the label, it is obvious that this is not a whey protein supplement. The "six stage protein blend," is a combination of whey protein concentrate, brown rice protein concentrate, whey protein isolate, egg albumin, milk protein isolate, and whey protein hydrolysate. These all combine for what is 24g protein per 39g scoop. What this means is that you are receiving multiple sources of protein, all of which absorb at varying rates.
The solution does contain 9g carbohydrates per scoop, accompanied by 2g of fat. This is slightly higher in carbohydrates than other protein powders I have used prior, and is something to take into consideration for those who are super strict about their carbohydrates. For the majority of people, especially those practicing Brazilian Jiu Jitsu, this should not be an issue. It is also gluten free, meaning it is acceptable to the growing populace that support a glutenfree lifestyle. The product is sweetened primarily with sucralose, and is aspartame free. I would have liked to have seen stevia as the primary sweetener in this product, simply because it is a natural source, and not an artificial sweetener. However sucralose does not seem to be as heavily scrutinized as aspartame, and it is used in almost all protein powders, so this is only a minor criticism.
So with all the technicalities out of the way... How does it taste? I can say that on taste alone, I am going to have to move on from the low quality powders I have used prior. The sample Gaspari Nutrition provided BjjWeekly was chocolate flavor. It did indeed taste like chocolate, but not like the generic chocolate protein powder I have had prior. The closest comparison I can relate this to, is those little round chocolate candies by the name of "Whoppers," which are quite delicious. The powder mixes very easily with a spoon, and does not leave the clumps of protein pulp that is reminiscent of unfiltered orange juice. With lower quality protein powders, I had almost exclusively mixed them with plain nonfat yogurt simply because I could not stomach the lumpy texture. It tastes quite good mixed only with water, although it is significantly better with milk, plain yogurt, or almond milk.
I enjoyed this product so much, that I have started to use it as a daily meal replacement for the long commute from my workplace to the dojo. By following the recipe below, you will get a healthy preworkout shake that will keep you satisfied for hours after consumption, and best of all, it tastes like penutbutter cup icecream. To try it simply throw the following into a blender:
1 scoop Chocolate Flavored Myofusion
2 tablespoons peanut butter (I use all natural flaxseed peanut butter).
1 cup of skim milk, almond milk, or coconut milk (the latter two are carb free and less calories).
Optional: A handful of spinach leaves (you can't taste these and they add some additional source of whole food vitamins.)
Some ice...
The results will be a 350-400 calorie, protein packed beverage that rivals your favorite fast food milkshake, without all the sugars and unhealthy fats. This should provide plenty of sustained energy for your typical one to two hour training session.
I look forward to trying the other flavors in the Myofusion protein series. My mouth is already watering over the cinnamon roll flavor and I can not wait to try it. If that is as good as expected, I may give up whole foods all together (I'm just kidding of course).