These chicken salad sandwiches have a ton of extra flavor and are a lot healthier than the muck you'll get at the local sub shop. Next time you fire up the grill, throw on a couple of extra pieces of chicken and you'll be glad at lunchtime the next day. You can use white, dark, or a mix of chicken.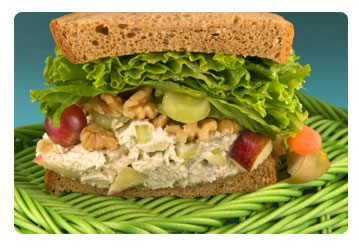 2 pieces of grilled chicken, chopped
1/2 apple, chopped
1/4 cup walnuts
1/4 cup red grapes or dried cranberries
1/4 cup celery chopped
2 tbs mayo
fresh cracked black pepper to taste
sea salt to taste
Put the chicken into a food processor and give it a quick pulse. Add in the rest of the ingredients and give 3 or 4 quick pulses. You don't want to turn everything to mush so not too long.
If you are watching your
carb
intake, try serving this open face on a toasted English muffin instead of bulky bread. Or add some lettuce and use a low
carb
wrap.