Inbox Flodded With Gameness Never Quit Moment Entries!
Become a Gameness Sponsored Fighter!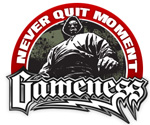 Become a Gameness Sponsored Fighter!Last week we announced a contest being sponsored by our friends at Gameness. If you haven't heard, Gameness is looking to sponsor a new BJJ fighter. But they aren't looking just at the top of the podium at the Mundials. They want a tough everyday fighter to rep the brand. They want to hear about your Gameness Never Quit Moment!
We've had over 50 entries submitted already, including a few cases where people wrote essays about one of their teammates and nominated them for the sponsorship. That's a pretty great team mate if you ask me.
If you haven't gotten your entry in yet, there's still time. The deadline is Saturday, March 12 at midnight eastern time. After we have all the entries in we'll be publishing the winners in the newsletter... READ >