Road to Recovery by Augusto Tanquinho Mendes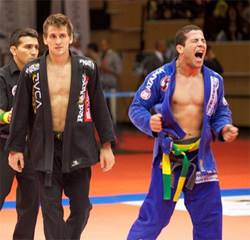 Every athlete in any sport has experienced an injury or will go through some type of injury one day in their career. Sometimes it can be a serious injury and other times it can be minor, but all types of injuries worry the athletes. When you are a professional athlete and a training routine is part of your day to day life, it is difficult to go through a new routine of recuperation and the limitations that an injury has!
I can say all of this because I have personally been through 2 serious injuries throughout my career. My first serious injury happened in October of 2009. I ripped all of my ligaments in my right elbow, during training and I needed a difficult operation to reconnect all of the ligaments in that area. I passed through 4 months of recuperation and I can say that I overcame all of the difficulties and I was able to transform the difficult period into determination to come back more focused and with this I had even better results, even after the injury.
Now, I am recovering from my second serious injury in my career. In November of 2011, I needed an emergency surgery done on my spinal cord. I had a hernia that was compressing a few nerves and because of this I was forced to stop training again. It has already passed 5 months and only now have I started training again, but I know better than anyone that everything I was doing in those 5 months would... READ NOW >