FROM HUMBLE BEGINNINGS, ROBSON MOURA'S FAVELA HOMECOMING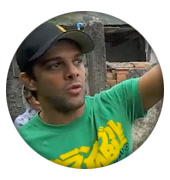 I've never been to Brazil. In my imagination it all looks like Ipanema Beach. But the Favelas never make it onto the postcards. It's a side of life most of us will never see, much less understand. But it's a reality for thousands of kids who grow up there, just like Robson Moura did.

From getting shot at, to the friendly neighborhood drug dealer, to the house that his father built by hauling sacks of cement up the mountainside on his back, this video gives you some insight into the daily struggle of growing up in the Favela.

Robson has come a long way, if you weren't a fan before watching this, I guarantee you will be after. Humbling .... WATCH NOW >