GAMENESS NEVER QUIT MOMENT
Winner Announcement!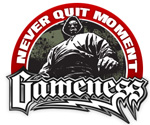 Voting is now over for the Gameness Never Quit Moment Sponsorship Contest, and the winner with over 838 votes is Andy Lushman! Andy will be getting a full sponsorship package from Gameness, including a practice gi, a competition gi, competition entry fees, and he'll be featured in an upcoming Gameness advertisement!
Both semi finalist winners, Elie Chalita and Shane Mount win a gi from Gameness.
BJJ Weekly and Gameness would like to thank everyone who took the time to enter the contest and share their stories with us, it was a truly humbling experience to read about all your Never Quit Moments... READ NOW >